Bio-innovation means saving more lives, sooner.
It's about accelerating world-class biomedical research and innovation to develop lifesaving new treatments and technologies for everything from COVID-19 to cancer, to the pandemic threats of the future.
With expertise in genomics, machine learning, data science, biomedical engineering and more, UBC researchers are working together across disciplines and with partners in the private and public sectors to advance a world-class biomanufacturing ecosystem. We are fueling a new wave of innovation and creating pathways to more healthy, resilient communities at home and around the world.
With national and global leadership in key areas — such as lipid nanoparticle technologies, regenerative medicine, nanomedicine, precision medicine, immuno-engineering and more — BC's bio-innovation community is transforming the future of medicine.
Together we are accelerating the translation of research into solutions to the most urgent health challenges of today and tomorrow — bringing new hope to patients and families everywhere.
Image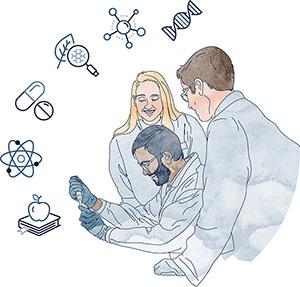 Biomedical innovation is a six-step process from scientific discovery through to the development of patient-ready medicine. Learn more about the six steps and how we can accelerate them to bring lifesaving treatments to patients, sooner.